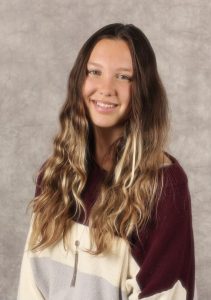 Hi, my name is Simone Ebersole. I am fifteen years old and a freshman in high school. I have never been on a missions trip before so I am extremely excited. A goal I have in going on this missions trip is seeing the world. I want to experience what the rest of the world is like
through God. I want to see how other people in other countries live.  What their day to day lives look like compared to mine. I want to be able to leave with a new perspective of life and how I should be grateful for what I have.
​Another goal I have is seeing God work in people. Sure I've seen it at summer camps but it kind of starts to look the same. Don't get me wrong, it's still amazing seeing it each time. But I want to bring the Word to other people who might not have even heard of Jesus yet!  One thing I think about a decent amount is how will people be able to serve Jesus if they've never even heard of him. How will they get the chance to go to heaven if they don't even get a chance to hear about Him first? Maybe they would have served Jesus with their whole heart, but they never had the chance because they didn't know He was there.
​You must be wondering by now where I'm even going. The answer is Iquitos Peru. I will be there from July 4th to the 13th this includes travel as well. I am going with nineteen other people on a short term missions trip to serve with the People of Peru Project. People of Peru Project is an organization stationed in Iquitos Peru and they are dedicated to helping spread the gospel to the people of Peru. We will be staying with them and they will give us a hoard of things to do while we're there. These jobs will most likely include some construction, praying, teaching, and healing. Something I am very excited about is we will most likely go into the amazon jungle to teach local tribes about the good news of God.
​Now comes the hard part, money. We got a great deal on airline tickets to Lima, but they are still costly. I will need to raise two thousand dollars to cover everything and be able to go. Of my own money from refereeing every weekend for eight weeks in the spring I have around five hundred dollars saved up. If you are called to missions but can't serve directly or haven't had a chance yet, you can still serve. Donating money to help missionaries go to foreign lands is an amazing way to help. Missionaries depend on their family, friends, and community to help them reach their goals. So then, if you would like to help send me to Peru then please donate whatever amount you like. I am thankful to every dollar that helps.
Donate Securely