~Formula for the Philippines Immediate Needs~
During 2020, Formula for the Philippines has struggled to stay afloat.
Since COVID has begun, The Baby House's bills have more than tripled! The reason given by every utility company is simply "COVID." While we are trying to meet the needs of the families that belong to the F4P program, our prayer is that we can also begin to meet the needs of other families living on the streets. While the world is dealing with the effects of COVID; the Philippines has been struggling with the effects of COVID, Typhoon Vamco, and the recent earthquakes.
Our immediate needs are:
Finances to cover our rent and utilities
Donations to general funds to cover emergencies such as medical care (COVID treatment)
Sponsorships for meals going out to kids and families that have no food
Volunteers to participate in a Natural Disaster relief team (Covid, Typhoon, Earthquake)
Prayer partners willing to speak about and encourage staff that are on the ground in the Philippines
Speaking opportunities at churches, Bible studies, gatherings, etc. to share what God is doing in the Philippines and to raise support for F4P. These can be online or in-person.
We invite you to journey with us in prayer and to consider donating to the families struggling in the Philippines. Our goal this year is to radically reach families living on the streets. We believe in meeting their immediate physical needs while actively pursuing Christ beside them. To reach out and hear more about specific needs and details, please email contact@worldfamilymissions.org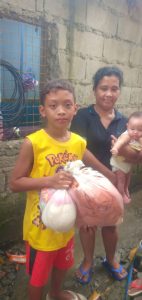 .                           
.